Actions to take if you receive the error message that the site can't be reached.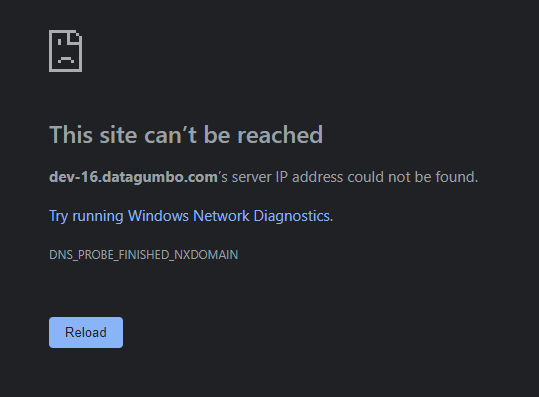 The following steps can narrow down the error to obtain the right solution:
Make sure the Google Chrome browser is used to access the portal. All other web browsers are not approved.

Connect to www.google.com and perform a quick Google search for any words at your discretion; this step is for verifying your internet connection. If you are unable to connect, make sure your computer's WiFi is turned on and not in Airplane Mode, or check the ethernet cable connection.

Check the provided web address (URL) from the Data Gumbo Team and make sure to input the correct address into the web browser.

If this is a first-time log-in, ensure that your internet provider doesn't block access to external websites, and add the Data Gumbo platform to your whitelist.

If a solution does not work, contact Data Gumbo for support.